The new Chilean constituent process: exercising the 'muscle' of public participation in an adverse context
,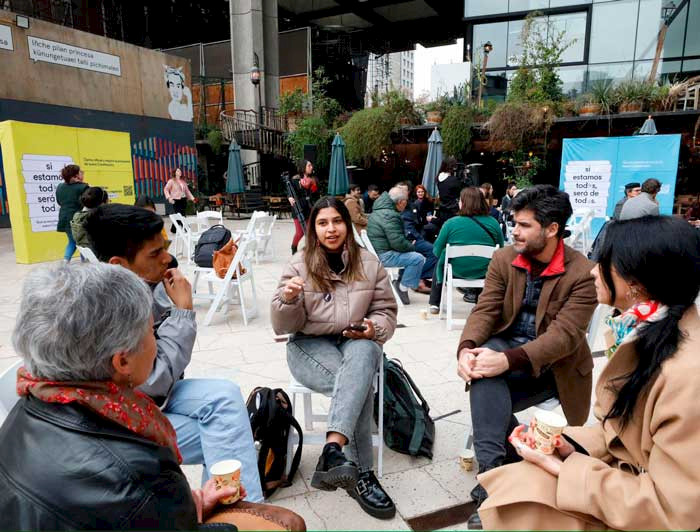 ♦ ♦ ♦ This article is part of a series where experts provide insights into Chile's constitution-making process. Read more. ♦ ♦ ♦
Chile's 'muscle' of public participation has been strengthened through repetition. From popular initiatives and public hearings to deliberative dialogues and digital polls, the public participation campaign of the new constitution-making process has attempted to facilitate wide engagement, substantive input, and inclusivity. Nevertheless, the process has grappled with tight deadlines, shifting political dynamics, and lower-than-expected engagement. Even though we should not expect merely symbolic public participation in the Chilean context, the influence of these citizens' contributions in the final text remains to be seen – writes Claudia Heiss
Introduction
After Chile's transition to democracy, the need to guarantee governability was linked by political elites to social demobilization and closed-door negotiations, but democratic constitution-making processes increasingly include direct citizen involvement through deliberative and participatory mechanisms. Chile charted this course when, in 2016, President Michelle Bachelet spearheaded efforts for citizen participation as part of the attempt to replace the 1980 Constitution. Her plan included online consultations, self-organized meetings, and provincial and regional meetings led by local governments. More than 218,000 people participated in this highly inclusive and plural "constituent opening", the first national large-scale public deliberation to debate constitutional issues. The results, summarized in a report, were expected to provide insights for a future constitutional discussion. The process, however, came to a stop when Sebastián Piñera won the following presidential term (2018-2021) and decided not to persevere with constitutional change.
During Piñera's administration, the constitutional discussion was not fully muted, as the lack of social reform in a context of high inequality became increasingly perceived as an institutional legacy of authoritarianism. Following more than a decade of social mobilization, the massive protests of October 2019 led political parties to start a democratic constitution-making process. In May 2021, a 155-member Constitutional Convention was elected. Between July 2021 and July 2022, the Convention held thousands of public hearings and received 78 popular initiatives for constitutional articles (supported by over 15,000 signatures each). The Convention passed a special regulation on participation (and an additional one for Indigenous participation) as part of its Rules of Procedure, and appointed a Committee on Popular Participation. But the eventual constitutional proposal was rejected by 62 per cent of voters in a referendum on 4 September 2022.
Launching the third attempt at constitutional reform
In December 2022, a new political agreement launched a third attempt towards constitutional reform, necessitating a new constitutional amendment. This amendment described the procedures and institutions responsible for drafting and adopting the new constitutional text, as well as twelve "borders" or basic principles that could not be modified. It mandated an Expert Commission to propose a preliminary draft (Article 145) and an elected Constitutional Council to revise it (Article 144). According to Article 153, Congress would propose a regulation for the new constituent process, including "citizen participation mechanisms, which will take place once the Constitutional Council is installed and will be coordinated by Universidad de Chile and Pontificia Universidad Católica de Chile, through formulas that allow the participation of all accredited universities…" The amendment specified that a mechanism allowing popular initiatives should be included.
The Secretariat for Public Participation put in place four parallel mechanisms for the new process: popular initiatives, public hearings, deliberative citizen dialogues, and citizen consultation.
The regulation was published in March 2023, with a special chapter on citizen participation (Articles 98 to 107). It created a Secretariat for Public Participation under the leadership of the Presidents of Universidad de Chile and Pontificia Universidad Católica de Chile, in association with 40 universities across the country plus several civil society organizations. On 10 April, the Secretariat delivered a report analyzing public participation mechanisms used in the previous constitution-making attempts. It then put in place four parallel mechanisms for the new process (Article 99): popular initiatives, public hearings, deliberative citizen dialogues, and citizen consultation. These were designed to collect citizens' opinions on the preliminary draft, once the latter had been finalized, throughout a "month of participation" that lasted from 7 June to 7 July. Consequently, the public input would be collated post the Expert Commission's deliberations, to influence the Constitutional Council, which had been elected on 7 May 2023.
Online platforms were developed for each participatory mechanism, accessible through a national identification number, used for most online bureaucratic formalities. Citizens could present one popular initiative, support up to ten such initiatives, request one public hearing, attend unlimited hearings or see them online, freely organize and participate in deliberative dialogues, and respond to an extensive online consultation form.
The four mechanisms of public participation
Popular initiatives (Article 100) referred to amendments proposed to the Expert Commission's preliminary draft and allowed organizations and individuals to collect supporting signatures. Proposals surpassing 10,000 signatures from at least four different regions of the country were automatically discussed in the Constitutional Council. Out of over 1,600 amendment proposals, 31 popular initiatives qualified. The most endorsed proposal was "Chile for the animals" (25,415 signatures), defining animals as sentient beings to be protected by the state. In the second place came "Not with my money" (24,505 signatures), defending the ownership and heritability of pension funds. The latter proposal was the most popular in the previous Convention, with more than 60,000 signatures. Proposals were fairly split between right- and left-leaning agendas.
The most endorsed proposal was "Chile for the animals" (25,415 signatures), defining animals as sentient beings to be protected by the state.
Each person could support up to ten initiatives, but on average people supported 2.7. More than 236,000 individuals participated via this mechanism, predominantly men (70 per cent) with a high level of education (74 per cent). Beyond receiving the Secretariat's reports on the public initiatives, the thematic committees of the Constitutional Council also held special sessions with the authors of these initiatives, from 18 to 20 July.
The second mechanism, public hearings (Article 101), enabled individuals or groups to present their opinions about the preliminary draft. To maximize the geographic reach, a network of 40 universities held two days of hearings on 30 June and 1 July across 75 university campuses nationwide. Each presenter was allotted 10 minutes to speak, except for Indigenous representatives who had 20 minutes to allow for ceremonial introductions. 73 per cent of these hearings took place at universities, 15 per cent before the Council's committees, and 12 per cent remotely. About half of the hearings dealt with social rights. Half of those requesting hearings were from the Metropolitan Region of Santiago, which highlights the country's centralization. Around 60 per cent of those who applied were men.
Contrasting with popular initiatives, hearings had no admissibility filter, and all requests were scheduled. Out of 1,841 requests, 1,136 took place, with a majority (827) taking place at universities. The Constitutional Council agreed to receive 200 hearings between 3 and 7 July, which were randomly selected by the Secretariat. Of these, 171 took place, either face-to face or via Zoom, and split among the Council's committees. Remote hearings enabled the participation of Chileans residing abroad, in remote areas, or who had difficulty attending in person. The hearings were made publicly available both in video and in text, organized by region and searchable by topics.
The Secretariat identified the 10 most prevalent topics from the hearings and asked 30 scholars to perform a qualitative analysis to assist the Council members in identifying how these hearings could affect discussions of the draft. For each topic, three experts each analyzed the related hearings and, to counter biases and provide for diversity of opinion, delivered an individual report. Qualitative analyses were summarized in a report delivered in August 2023, and a pending final report will present in full the experts' analyses.
The third mechanism, deliberative dialogues (Article 102) came in two forms: representative and self-organized. Regarding the representative dialogues, applications were open to the public and a diverse group of 1,000 people were randomly selected, ensuring representation across sex, age, level of education, and area of residence. These participants engaged in online discussions on five predetermined topics from the draft. For each topic, specific statements were proposed, and participants were asked to give reasons for their agreement or disagreement. Participants could also propose new topics. During three weekends in June 2023, 231 dialogues took place, of around three hours each, with a total of 990 participants.
In contrast, the self-organized dialogues followed a similar deliberative method but were not representative. Educational institutions organized meetings of this kind, resulting in the largest participation of young people among the four mechanisms. In total 2,298 self-organized dialogues took place, with a total of 10,257 participants.
The citizen consultation (Article 103) functioned like a digital poll. The Secretariat proposed multiple-choice questions concerning the draft, allowing people to answer them and make additional comments. A total of 28,685 people responded. Most respondents were urban residents with a high educational level, primarily in the Santiago Metropolitan Area. Notably, this mechanism showed prevalent support for the constitutional articles proposed by the Expert Commission, a finding that seemed at odds with polls showing increasing rejection for the process and the draft.[1]
To assist and educate the public, the Secretariat for Public Participation developed training sessions and workshops aimed at teaching social organizations and individuals how to use these mechanisms efficiently. Dedicated teams liaised with social organizations and civil society and with the participating universities. A communications team informed the public through social and mass media. Despite this work, interest in the constitutional process remained low, with participation levels below expectations.
Conclusion
Even if far from perfect, the mechanisms for citizen participation in Chile's current constitution-making process benefited from organizational resources, early design, relations between different actors, and a combination in the use of technologies and face-to-face contact. The universities in the Secretariat for Public Participation and the civil society organizations that helped organize participation seem to have learned from previous processes. The Secretariat recognized its role as one more link in a chain by beginning its work compiling as much as possible from previous processes.
The "muscle" of public participation for constitution-making had been used twice in recent years. This repetition meant greater familiarity with the mechanisms, more collective strategies, and a refinement in the substantive content from participation, rendering it more influential. Thus, hearings seem to have been less expressive and more focused on the text than during the previous Constitutional Convention, and proportionally fewer popular initiatives were rejected for not meeting substantive requirements.
However, time constraints posed a bigger issue this time, as all deadlines were extremely tight. Hearings before university professors were efficient to register and systematize opinions, but while some participants appreciated the opportunity, others felt disappointed by not talking to the Council or for the lack of a larger audience.
The participation of Indigenous peoples was notably lacking, perhaps as a reaction to the prominence this topic had in the failed previous process. While attempts were made to give special attention to Indigenous and tribal peoples, together with other often underrepresented groups like women, sexual and gender minorities, people with disabilities, older adults, children and teenagers, persons deprived of liberty and Chileans living abroad, the lack of an Indigenous consultation according to the standards of the International Labor Organization Indigenous and Tribal Peoples Convention 1989 (no. 169) contributed to delegitimizing the process before those communities.
It seems remarkable that despite political predictability and an adverse public opinion, thousands of citizens, often very well prepared, mobilized to give their views on the text.
Changes in the political context three years after the 2019 protests, the prior failed attempts at constitution-making, an intense electoral calendar, the Covid-19 pandemic, and the rise of economic and security concerns may help explain the lower-than-expected interest aroused by this process. Moreover, the constitutional process was seen by many as having been cooked up by those political parties that did not want reform to start with. This legitimacy problem increased when the Constitutional Council elections gave a resounding victory to the right. The extreme right Partido Republicano obtained enough votes to block amendments to the draft, and in alliance with the traditional right, reached a majority sufficient to pass any provision without negotiating. This may have discouraged participation by reducing uncertainty about political outcomes.
This participatory process is closely tied to the representative political dimension of decision-making. It seems remarkable, however, that despite political predictability and an adverse public opinion, thousands of citizens, often very well prepared, mobilized to give their views on the text. The extent to which these views influence the Constitutional Council or will enter public discourse remains uncertain.
---
[1] According to Research Chile, rejection for the constituent process increased from 16 per cent in July to 23 per cent in August 2023.
Claudia Heiss is an Assistant Professor of Political Science at Universidad de Chile's Facultad de Gobierno and was responsible for Public Hearings at the Secretariat for Public Participation.
♦ ♦ ♦
Suggested citation: Claudia Heiss, 'The new Chilean constituent process: exercising the "muscle" of public participation in an adverse context', ConstitutionNet, International IDEA, 29 August 2023, https://constitutionnet.org/news/new-chilean-constituent-process-public-participation
Click here for updates on constitutional developments in Chile.