The war in Ukraine and its repercussions on Europe's "security and defence constitution"
,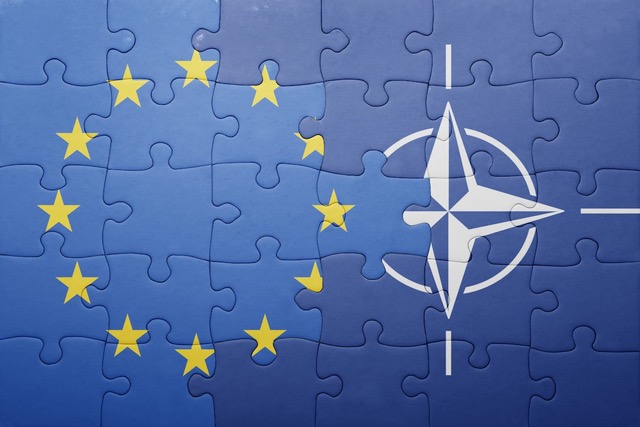 European States' reaction to the Russian invasion of Ukraine has triggered both constitutional and statutory reforms which fall into two categories: increased participation in multilateral cooperation forums and alliances (namely the EU's Common Security and Defence Policy and NATO) and increased financial investment and resource acquisition in defence. While diplomacy continues to be the European tool of choice for external action, the realization that security chiefly rests on military capability is profoundly impacting Europe's "security and defence constitution", that is the legal, institutional, and political arrangements governing security and defence across European States – writes Dr. Carolyn Moser
Introduction
The 2022 Russian aggression against Ukraine, which came as a shock to most European citizens and decision-makers, triggered a series of legal and institutional measures across European countries. While measures differed in their legal nature – some constitutional, some statutory – they have the potential to considerably (re)shape Europe's "security and defence constitution": that is, the legal and institutional framework within which security and defence will henceforth unfold in Europe.
There are two categories of remarkable developments, which this piece will analyse. Into the first category falls the strengthening of institutions and, more precisely, multilateral cooperation forums and alliances. Notable in this respect are the three Scandinavian countries – Denmark, Finland and Sweden – that drastically changed their attitudes towards participation in existing security and defence structures, namely the EU's Common Security and Defence Policy (CSDP) and NATO. The second category of noteworthy actions and events includes legal and institutional changes regarding resources, both in terms of financial investments in defence (the focus here will be on Germany) and in terms of the acquisition of capabilities at the EU level, including non-lethal and lethal weapon systems.
The Danish opt-in, a democratic boost for EU security and defence
As far as Denmark is concerned, we witnessed a fundamental change of direction on a key question of Danish politics, namely the end of the State's almost thirty year opt-out regarding EU security and defence matters.
In the early 1990s the Danes rejected the Maastricht Treaty in a referendum with a very slim majority of 50.7%, and were granted some special arrangements to allow Denmark to ratify the Treaty despite existing reservations regarding, for instance, the EU's democratic credentials and the introduction of a common currency. Those tailored concessions were set out by the so-called Edinburgh Agreement and encompassed four opt-outs for new or nascent fields of EU integration, including defence. According to this agreement, Denmark would "not participate in the elaboration and the implementation of decisions and actions of the Union which have defence implications, but [would] not prevent the development of closer cooperation between Member States in this area." And, indeed, Copenhagen has not taken part in the incremental institutionalization of security and defence at the EU level after 1999 and has stayed clear of military operations conducted under the CSDP umbrella. Remarkably, the Danish opt-out on security and defence applied to a policy field that unfolds along distinctively intergovernmental lines – which also holds for EU civilian activities and military operations – which means that Denmark abstained from taking part in intergovernmental decision-making and implementation in the CSDP area.
On 1 June 2022, the Danes, with an approval rate of 66.9%, decided to abandon their reservation and join EU security and defence.
Although, strictly constitutionally speaking, Denmark could have abolished its EU security and defence opt-out without a referendum on the basis of a simple majority in the Danish Parliament (Folketing) in line with Article 20 of the Constitution, a cross-party agreement reached in 1993 stipulated that any abolition of one of the opt-outs would be subject to another referendum. And this is exactly what happened on 1 June 2022, when the Danes, with an approval rate of 66.9%, decided to abandon their reservation and join EU security and defence. The referendum had been preceded by the adoption by the governing parties of a "National compromise on Danish security policy", which highlighted that changes to Denmark's existing security and defence architecture were necessary given the hardening geopolitical context. Following the referendum, the Danish Parliament in mid-June adopted a law that paved the way for Danish CSDP participation. Once Denmark's decision to join the policy had been formally communicated to the pertinent EU structures, Copenhagen started to take part in CSDP officially on 1 July 2022. This also means that the country can henceforth participate in joint-EU military operations and, importantly, collaborate on the development and acquisition of military capabilities within the EU framework. This includes collaboration under the Structured Permanent Cooperation (PESCO) in which 25 EU Member States committed to jointly plan, develop and increasingly invest in (shared) military capability projects, and to improve the operational readiness and interoperability of armed forces across Member States. Denmark can now also in future invoke the EU's mutual assistance clause in the event of an armed attack.
It is important to highlight that the plebiscite ending the Danish security and defence opt-out after thirty years marks a turning point in EU integration history. The clear result of the vote not only ends the derogation from EU security and defence issues that Copenhagen had deliberately maintained, but also gives the CSDP direct democratic legitimacy – in times of international turmoil and by a population known to act rather Eurosceptic in polls. This is clearly an extraordinary democratic impetus for Europe's "security and defence constitution".
A strong commitment to hard law and multilateralism: the Finnish and Swedish NATO applications
A no less historic development took place in respect to Finland and Sweden. Both countries ended their long-standing neutrality and applied in May 2022 for membership in NATO, with which they had both entertained a partnership since 1994. Even though this move did not require constitutional amendments in either of the two Scandinavian States, it nonetheless carries considerable weight for it reshapes a constitutive pillar of the respective political and institutional systems – with the clear support of the Finnish and Swedish citizens.
Finland, which has a 1340-km direct border with Russia and suffered significant territorial losses to the Soviets during World War II, abandoned its 75 years of neutrality and sought NATO membership less than three months after the Russian invasion. In line with constitutional arrangements set out in Section 93(I) of the Finnish Constitution, Helsinki's decision to request NATO membership was concerted between the government and the Foreign Affairs Committee of the Finnish Parliament (Suomen eduskunta). On 15 May, the country's President and Prime Minister made a joint communication upon which the Finnish government submitted, on the same day, a report expressing its support for the country's accession to NATO. Just one day later, on 16 May, the report was presented in Parliament, and the Foreign Affairs Committee adopted its own report on the matter one day later, which was then overwhelmingly approved by the plenary. And, on 18 May, Finland formally filed for NATO membership.
It must have come as a surprise to some observers that Stockholm did not make its NATO accession conditional on approval by the Swedish parliament.
Almost simultaneously, Sweden decided to end its nearly 200 years of neutrality and applied for NATO membership, too. It must have come as a surprise to some observers that Stockholm did not make its NATO accession conditional on approval by the Swedish parliament (Riksdag). Indeed, Chapter 10, Article 3 of the Instrument of Government, which forms part of Sweden's Constitution, states that, if national interests so require, consultation with the Advisory Council on Foreign Affairs is sufficient to enter into binding international commitments. This Advisory Council is a consultation group composed of members of the Riksdag and the government, presided over by the King. And in the context of NATO accession, this is the option that the government chose: The Swedish government informed the Swedish King of its intention to join NATO at a meeting of the Advisory Council on 16 May 2022. A parliamentary debate on the issue was held the same day. A day later, on 17 May, the Swedish Foreign Minister Ann Linde signed Sweden's formal application to join NATO, which was delivered the next day to the alliance's Secretary General, Jens Stoltenberg. This application for membership, in turn, required a statutory change to ensure that Sweden can provide military support to all NATO and EU countries and receive such support as well (legislation have previously only provided for military support from Finland).
To date, twenty-four of the thirty NATO members have accepted or ratified (depending on national requirements) the accession protocols of Finland and Sweden. All remaining NATO member States, whose consensus is needed to approve new members, are expected to finalize their approval processes before the end of the year – with the exception of Türkiye. Indeed, the biggest obstacle on the road to Finnish and Swedish NATO membership remains Ankara, although a trilateral memorandum on counterterrorism and arms exports, which is essentially linked to the handling of the Kurdish issue, was reached between Finland, Sweden and Türkiye at the NATO Madrid Summit at the end of June 2022. Yet, it is likely that the formal Turkish approval of Finland's and Sweden's NATO membership will only occur in the second half of 2023, mainly because of internal political reasons.
Since the two NATO accession candidates will not be able to benefit from the alliance's mutual defence arrangements (and nuclear umbrella) until they formally join, several NATO members have unequivocally stressed their willingness to provide military support to Finland and Sweden should they be attacked in the interim. Countries that offered security guarantees to Helsinki and Stockholm include France, Germany, the United Kingdom, the United States, as well as Denmark, Norway, and Iceland.
In any case, the (pending) twin accession is a decisive moment – both for the two Scandinavian countries involved and for European security and defence more broadly. The dual accession request is not only a clear political signal to Russia to stand down, but also has an important international law and international relations dimension. Indeed, at a time when multilateralism is losing ground and "soft law" solutions are gaining traction in international relations, the Scandinavian applications for NATO membership represent a clear choice for binding commitments and formal institutional cooperation. This, in turn, is an important signal for further developments in the field of European security and defence. The twin accessions also indicate that Europe's security architecture rests on two pillars, namely the EU and NATO, and hence bears a transatlantic facet. This Euro-Atlantic dimension is (or was) reflected in the national constitutions of a handful of Eastern and South-Eastern European countries, some of which explicitly mention(ed) accession to the EU and NATO as a political goal.
More than money: Germany's special army budget
Let us now turn to the resource-related developments that help to define the contours of Europe's "security and defence constitution", that is the legal, institutional, and political arrangements governing security and defence across European States – both at the national and the European Union level. In the wake of Russia's aggression against Ukraine, numerous European States have increased their defence spending. This is also true for Germany. But in Berlin, this increase has been accompanied by both a political earthquake and a constitutional amendment.
It is an open secret that the German armed forces (Bundeswehr) are in a very poor state. Indeed, the army's equipment is so run down that, in a crisis scenario, its operational capability is at risk according to both internal sources and external experts. In other words, the Bundeswehr needs a significant upgrade if it is to fulfil its defence tasks within NATO. In view of the war in Ukraine, the German chancellor therefore proposed on 27 February 2022 to adopt a one-off special budget of 100 billion euro in addition to the regular annual budget in order to boost the army's capabilities.
And so, on 3 June, with overwhelming parliamentary support (easily surpassing the required two-thirds majority), a new provision was added to Article 87a of the German Basic Law. This new provision authorizes the federal government to take on a one-time debt of 100 billion euro to strengthen the alliance and defence capabilities of the German army. Importantly, the additional fund is explicitly exempted from the constitutionally enshrined rule limiting government borrowing – the so-called "debt brake" – which aims to stabilize debt-to-GDP at the federal level. This legal construction has two implications. First, it means that the special fund (Sondervermögen Bundeswehr) is governed by the constitutional provisions applicable to the German armed forces and not by the stipulations on fiscal discipline. Second, it allows the government to stretch out spending on the special fund over several years.
For Germany, the constitutional amendment, which provides a substantial additional budget for the armed forces, represents a paradigm shift.
Now, why is this constitutional amendment relevant for Germany and European security more generally? For Germany, the constitutional amendment, which provides a substantial additional budget for the armed forces, represents a paradigm shift. Traditionally, defence issues have been rather neglected by German politicians (and voters); moreover, proposals to increase the budget line for the armed forces are generally met with a good dose of scepticism by the population. The announcement of a "new era" in German defence policy and the simultaneous establishment of a special fund to strengthen military capabilities therefore represents a significant change of course, which enjoys the backing of a large majority of voters. This change, in turn, has been met with a very positive response from several European countries that have been waiting for their German partner to finally step-up defence efforts. It has been reported that the Danes' sudden interest in EU security and defence was largely triggered by the German move to invest more in defence. The underlying assumption is that, if the EU's largest economy spends more on defence, this will give a significant boost to military cooperation in Europe. The special budget is thus more than a fiscal move: as reflected in the recent speech by the German chancellor, it (re)shapes the conditions for future European security and defence cooperation.
The game changing arms delivery of the EU to Ukraine
Another significant innovation for European security and defence cooperation is that the EU is financing the purchase and delivery of lethal weapons to Ukraine – a first in EU history – under the European Peace Facility (EPF).
The EPF was created in 2021 as an off-budget funding mechanism – that is a funding instrument financed through Member States' yearly contributions, which is separate from the EU's annual budget – to fund actions with military and defence implications carried out under the Common Foreign and Security Policy (CFSP). EPF money can be disbursed in two contexts. First, the facility can fund EU military missions and operations under its "operations pillar"; second, the EPF can finance measures and activities to strengthen military and defence capacities in third countries and support military aspects of peace support operations under the instrument's "assistance measures pillar". It is under this second pillar that the EU has decided to support Ukrainian armed forces to contribute to strengthening their capability and resilience. The idea is that national actors (ministries) will supply weapons to Kyiv, but that EPF funds will cover (part of the cost of) the supplies. So far, however, no reimbursement process seems to have been put in place.
The EU has deviated from its previous strategy and decided to deliver both non-lethal and lethal military equipment to its neighbour under attack . . . a watershed moment for the EU.
Nonetheless, several elements are noteworthy about this development. First, the EU has deviated from its previous strategy and decided to deliver both non-lethal and lethal military equipment to its neighbour under attack. This is a first or, as the Commission President von der Leyen stated, a watershed moment for the EU. Second, in the last few months, the EU has gradually increased the funds earmarked for the support of Ukraine, allocating 2.5 billion euro for assistance measures to the country under attack. This amount is considerably higher than any other assistance measure under the EPF and is therefore unique. A third particular aspect concerns the role of specific EU structures in the use of EPF funds earmarked for Ukraine. For example, a key EU military structure – the EU Military Staff (EUMS) – has been tasked with recommending priorities for the type and quantity of support to be funded. In addition, the EUMS has established a clearing-house mechanism to match Ukraine's declared needs with equipment available in Member States. The innovative clearing-house function of the EUMS could indicate an important change in governance, namely that (even) more security and defence policy decisions in the EU will be taken and implemented by Brussels-based structures in the future.
Conclusion
In conclusion, this piece showed that, following the Russian aggression against Ukraine, a handful of measures have been taken across Europe that stand out from a constitutional perspective, both in state constitutions and the overarching "security and defence constitution" of Europe, that is the legal, institutional, and political arrangements governing security and defence across European States. The unequivocal commitment to formal engagements and multilateral cooperation along with new patterns for defence spending and acquisition at the national and European level will be crucial elements in this regard.
Importantly, these developments are by and large welcomed by Europeans. Accelerated since the Russian war on Ukraine, European citizens consider security and defence a key EU priority, and are massively in favour of the European Union and its Member States improving their geopolitical standing, including by enhancing cooperation on defence matters at the EU level and by increasing defence spending. This does not mean that Europeans are neglecting the importance and effectiveness of diplomacy – which remains their favourite tool of external action – but that they have come to realise that, if push comes to shove, peace and security chiefly depends on military capacities. This realization, in turn, is likely to profoundly reshape the narrative of a normative power that Europeans have liked to tell (including to themselves) since the early 2000s. Therefore, we can expect to see hard power considerations gaining traction, which will also leave a mark on Europe's future "security and defence constitution".
Dr. Carolyn Moser leads the research group ENSURE (European Security Revisited) at the Max Planck Institute for Comparative Public Law and International Law in Heidelberg (Germany).
Many thanks to Felicitas Burst and Lukas Märtin for their research assistance and editorial support in writing this blogpost, and to Sharon Pia Hickey for her insightful comments on an earlier draft.
♦ ♦ ♦
Suggested citation: Carolyn Moser, 'The war in Ukraine and its repercussions on Europe's "security and defence constitution"', ConstitutionNet, International IDEA, 22 September 2022, https://constitutionnet.org/news/war-in-ukraine-repercussions-europe
Click here for updates on constitutional developments in Denmark, Finland, Germany, and Sweden.