Armenia's Constitutional Journey Continues
,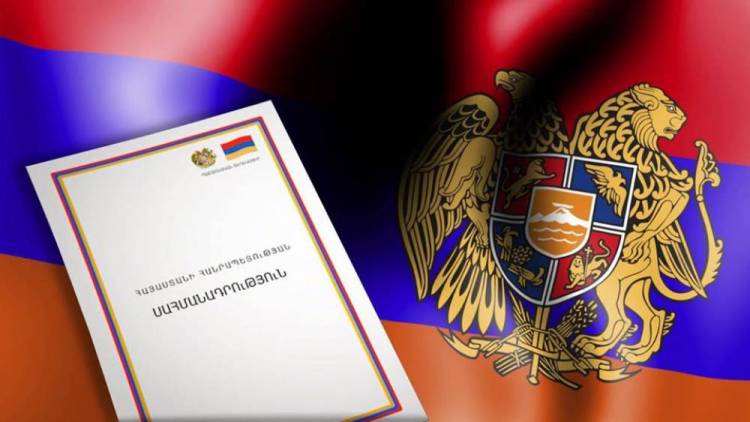 Armenia has announced a new constitutional reform initiative, ending the previous effort that was hobbled by a series of emergencies. The new Constitutional Reform Council will consider, among other issues, the omnipresent debates surrounding a return to semi-presidentialism. But there are other key issues currently missing from the agenda. To have any chance of passing via referendum, the current process will need to counter opposition criticism that the reforms are a ploy to entrench government incumbency, and, further, must give voters something to be excited about - writes Harout Manougian
Introduction
As in other facets of life, building a nation's constitution is more about the journey than the destination. Major events contribute to an altered general understanding among society, and a constitution codifies the new reality. But the process of drafting that language can be a major event itself; in a sense, "the medium is the message."
In Armenia, former President Serzh Sargsyan moved the nation from a semi-presidential system of government to a parliamentary model through a constitutional referendum in 2015. Those changes were drafted by a presidential commission: nine members that reported directly to him. They ended up proposing a package that would allow him to shake off term limits while still retaining full control of the levers of government. Nikol Pashinyan, then an opposition MP, criticized that Constitution as "a suit tailored to fit the man," referring to Serzh Sargsyan.
The 2015 Constitution is still in force today, but mass protests during Sargsyan's transition from President to Prime Minister in 2018 led to his resignation. Consequently, Pashinyan himself stepped into the (newly empowered) Office of Prime Minister. By December 2019, Pashinyan had appointed his own Expert Commission on Constitutional Reform. It was mostly a small group of hand-picked legal experts that reported directly to him but, this time, applications to join the Commission were accepted from constitutional law experts with at least seven years of experience and civil society organizations with a track record of democracy promotion. The two parliamentary opposition parties were also given one seat each at the table.
Without waiting for this Commission's recommendations, however, the government called a constitutional referendum for 5 April 2020 on one narrow issue: dismissing seven of the nine Constitutional Court judges. They argued that the Constitutional Court was under the political influence of the previous government and acting as an opposition to Pashinyan's government. The decision to hold a referendum came after an attempt to remove the judges through an early retirement package was criticized by the President of the Venice Commission.
The Court had made several procedural rulings in favor of Robert Kocharyan, a former President on trial for "overthrowing the constitutional order" when the army was called in to violently disperse post-election protesters back in 2008. As one of the 2008 protest leaders, Pashinyan had been jailed and considered a political prisoner, before he was granted amnesty in 2011. Kocharyan's trial was still ongoing at the time the referendum was called.
That constitutional referendum had to be canceled due to the COVID-19 pandemic. Instead, the National Assembly passed the measure without a referendum through a two-thirds majority, though it was watered down to instead limit all incumbent judges to the same 12-year term that new judges are subject to (only three judges were consequently dismissed, instead of seven). Kocharyan was later acquitted.
This series of major events was woven into the fabric of Armenian constitutionalism, not just the black-and-white text, but also the constitutional background of norms and precedents.
A Fresh Start
The Expert Commission on Constitutional Reform established in 2019 was hobbled by a series of emergencies. First, the Covid-19 pandemic restricted in-person gatherings. Then, the 2020 Artsakh War preoccupied senior government legal experts, who lodged inter-state applications against Azerbaijan at the European Court of Human Rights. Finally, the post-war political crisis led to an early election in June 2021, as a result of which political parties aligned with previous governments returned to the Parliament.
In light of these major events, the previous Constitutional Commission was dissolved in December 2021. A new Constitutional Reform Council has been formed in its place; it will be chaired by the Minister of Justice, and its members were officially appointed on 27 January 2022.
The membership was selected by the Ministry of Justice and confirmed by the Prime Minister. Seven applications had been received for the three NGO spots. The Ministry of Justice reported that five of the applications met the eligibility requirements (being active in Armenia for the previous five years in the areas of human rights, democracy promotion, proposing legislation and judicial system reform), of which three were selected.
Five extra-parliamentary political parties expressed interest in participating, but only three submitted applications for the three available spots initially allocated to them. However, the Christian Democratic Party was deemed not to meet the eligibility requirement of having participated in at least two of the previous three parliamentary elections (as its leader had run under a different party registration in 2018). Thus, although three spots had been foreseen for extra-parliamentary parties, one was left unfilled. The two extra-parliamentary parties that will participate had been members of an electoral alliance (joint candidate list) with Pashinyan's Civil Contract Party in 2017 but have parted ways since.
The two main parliamentary opposition parties are boycotting the constitutional reform initiative, declaring it to be an attempt by the current government to entrench its incumbency.
The two main parliamentary opposition parties, the Armenian Revolutionary Federation and Republican Party of Armenia, initially had been allocated one spot each in this iteration of the Council. However, they announced that they will be boycotting the constitutional reform initiative, declaring it to be an attempt by the current government to entrench its incumbency.
Unlike the 2019 iteration, the new Council will not include independent, unaffiliated constitutional law experts. Instead, the members of the Council will choose five such experts to form a separate Expert Commission on Constitutional Reform, which will be responsible for doing the bulk of the research work and report back to the Council. The Council itself is tasked with reporting its recommendations back to the Prime Minister by June 2023.
Regarding the inclusivity of the process, at a meeting on 5 November 2021, Justice Minister Karen Andreasyan announced the new process and assured stakeholders that the recommendations will be informed by extensive public consultation. However, no details have yet been released about what that public consultation process will entail.
Established norms and precedents in Armenia are not promising. Public consultation for most draft legislative proposals is limited to a two-week posting of the new legal language on the government's web portal, where online comments are accepted and registered users can vote with a thumbs up or thumbs down. Other higher-profile bills sometimes include a day of parliamentary hearings at the National Assembly or town hall presentations outside of the capital. Certainly, no ground-breaking, inclusive process like a Citizens' Assembly has been mentioned.
The previous Expert Commission on Constitutional Reform appointed in 2019 did not have its own website to provide updates or a dedicated email address to contact. It never published its findings. Occasionally, its representatives gave a media interview about their work, and they held an online session with civil society representatives. So far, the new Council has not shown any indication that its modus operandi will be different.
The process itself delivers a message: this is an elite process being widened ever so slightly to a greater circle of elites.
Nevertheless, leading up to the 2015 Constitution, there were no online sessions, and no opposition members were offered a seat at the table. These are baby steps; the journey continues. Ultimately, though, the process itself delivers a message: this is an elite process being widened ever so slightly to a greater circle of elites. The body will still answer to the Head of Government, who will get to decide what to do with their recommendations. Indeed, Pashinyan has recently stated that the work of the Constitutional Reform Council will not necessarily lead to constitutional changes.
The Shopping List
The main item that the new body is expected to tackle is the presidential vs. semi-presidential vs. parliamentary model debate. On 23 January 2022, President Armen Sarkissian resigned, arguing that the position needed to have more constitutional tools at its disposal. He has expressed that the position should be directly elected by the people, implying a return to the semi-presidential model. He has also actively advocated for lifting the restriction on dual citizens from occupying various government positions.
In February 2021, senior military leaders, among other notable figures, publicly called for Nikol Pashinyan's resignation in the aftermath of the 2020 Artsakh War. Pashinyan described it as an attempted coup. In response, he held a public rally, at which he expressed that he was in favor of considering a return to semi-presidentialism and that a constitutional referendum would be scheduled for October 2021. That referendum never happened. Instead, an early parliamentary election was called.
In more recent interviews, Pashinyan has walked back his inclination toward semi-presidentialism.
In more recent interviews, Pashinyan has walked back his inclination toward semi-presidentialism. He explained that there had been criticism during and after the 2020 Artsakh War that a semi-presidential model would have provided a less ambiguous chain of command over the military. He initially agreed with that idea, but later came to the understanding that a semi-presidential model, with its fixed terms, would not have allowed for an early election as a way out of the post-war political crisis. His current position is that he is personally inclined against a return to semi-presidentialism but his administration is willing to hear the opinion of the new Constitutional Reform Council.
The second item on the agenda is whether to merge the Court of Cassation (Court of Appeal) with the Constitutional Court to adopt a US-style unified Supreme Court model. This topic was studied intensively by the previous Expert Commission, and the Minister of Justice assured that these files will be considered by the new Council.
What's Missing from the Agenda?
Two items that have not yet come up in these discussions (but are vital considerations in relation to democratic consolidation in Armenia) include: removing the "stable majority" provisions that trigger a runoff election if no majority coalition can be agreed upon within tight timelines, and placing a term limit on the position of Prime Minister in the event the parliamentary system is kept.
The first is likely to be raised by the representative for the Helsinki Citizens' Assembly-Vanadzor, one of the civil society organizations that has been selected to join the Council. The existence of this provision is itself an obstacle to forming a multi-party governing coalition, which is a hallmark of parliamentary republics that use proportional representation, as Armenia does.
The 2018 protests made a clear point: no single person should remain at Armenia's helm for longer than ten years
Regarding the second, Nikol Pashinyan needs to remember how it was that he came to power in 2018. The main criticism of the 2015 Constitution was that it effectively eliminated term limits on Serzh Sargsyan. To the extent that a constitution is meant to codify a new general understanding arising from a major event, the 2018 protests have made the point that no single person should remain at Armenia's helm for longer than ten years. Although term limits on Prime Ministers are not common, they are not unheard of; Thailand's Prime Minister is subject to an eight-year term limit. It is unfortunate that no side, government nor opposition, is discussing the topic yet. This one concession alone could help legitimize the entire process and counter the opposition's argument that the exercise is about entrenching incumbency.
Conclusion
Justice Minister Andreasyan said that the Constitution should be tailored to the people and not to an individual, and that the new process will assure this happens. He will not be dictating terms to the individual experts that will make up the new five-member Expert Commission, to be appointed by March 2022. However, his single-party majority government remains firmly in control of what final version may eventually be put to a referendum. As the Civil Contract Party is one vote short of a two-thirds supermajority in Parliament, unless they can convince a collaborator from the opposition, a referendum is required to make any change. For a proposal to pass in a referendum, besides getting more Yes votes than No votes, the number of Yes votes also needs to exceed 25% of all eligible voters, whether they show up to vote or not. Getting there will require offering something that people will be excited about.
The journey continues.
Harout Manougian covers constitutional and electoral reform in Armenia for EVN Report. You can follow him on Twitter @HaroutManougian and subscribe to his Substack newsletter.