Back to overview
Cultura de la Constitución en Costa Rica. Una encuesta nacional de actitudes, percepciones y valores, International IDEA - 2009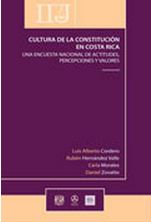 This book was issued by International IDEA in 2009, analyzes Costa Ricans' attitudes and perceptions regarding the Constitution and legality. The report is based on a series of similar studies in Mexico, Argentina and Bolivia, adapted to circumstances in Costa Rica.
Using a multidisciplinary approach involving legal, political and sociological elements, the study examines what Costa Ricans think about civil rights and their implementation. It identifies the opinions, values and beliefs that shape the political culture and legal framework; and it analyzes attitudes toward democracy as well as how power is perceived and exercised by political institutions. The report also looks at the main influences on the perceptions, attitudes and expectations of Costa Ricans towards their Constitution.
This book is written for constitutional experts, people involved in legislative and public policy decision making, the media, and all Costa Rican citizens seeking to engage in this aspect of political life.
To access this analysis, please click the following link:
http://www.idea.int/publications/catalogue/cultura-de-la-constituci%C3%B3n-en-costa-rica-una-encuesta-nacional-de-actitudes
The contents:
PRIMERA PARTE
CONSIDERACIONES TEÓRICAS Y ME TODO LÓGICAS
CAPÍTULO I Concepto de cultura de la Constitución
CAPÍTULO II Aplicación de la encuesta: características socio-demográficas de la población estudiada I. Fundamentos del diseño muestral II. Distribución de la muestra III. Algunas características de la muestra IV. Administración de la en cuesta
SEGUNDA PARTE
CAPÍTULO I Percepciones sobre el modelo de sociedad, los derechos y los valores I. Los derechos II. Percepción de la colectividad sobre sí misma III. Límites de la conducta de las personas y grados de autonomía individual frente a la ley IV. La obediencia y el respeto a la ley V. Libertad de expresión e información VI. La tolerancia
CAPÍTULO II Percepciones sobre la democracia: valores, reglas, representación y poder I. La democracia como forma de gobierno II. Valores de la democracia III. Reglas de la democracia IV. Liderazgo político V. Nivel de in formación: uso de los me dios de comunicación social
CAPÍTULO III Grado de conocimiento de las instituciones I. Conocimiento de las funciones institucionales
II. Percepciones sobre el desempeño de las instituciones
CAPÍTULO IV Percepciones sobre la ley y la Constitución
I. Falta de respeto a la ley II. Conocimiento de la Constitución
TERCERA PARTE
Conclusiones y propuestas I. Conclusiones II. Propuestas
CUARTA PARTE Cuestionario Anexo estadístico Bibliografía
---