Back to overview
Challenges of Nationhood-Identities, citizenship and belonging under Kenya's new Constitution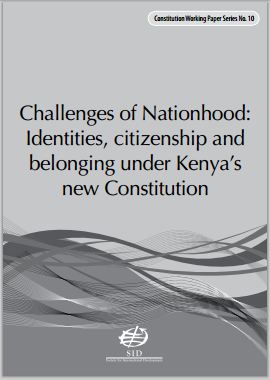 In 2010, on the cusp of Kenya's new constitutional dispensation, SID embarked on a project called "Thinking, Talking and Informing Kenya's Democratic Change Framework". Broadly stated, the objective of the project was both historical and contemporary: that is, to reflect on Kenyans struggles for a democratic order through a book project, and to examine the significance of a new constitutional order and its legal and policy imperatives, through a Working Paper Series.
Consequently, SID commissioned research on some of the chapters or aspects of the new constitution that require further policy and legislative intervention, culminating in ten Working Papers. These papers, mostly by Kenyan academics, are intended to help shape public discussions on the constitution and to build a stock of scholarly work on this subject.
Below is an abstract from Working Paper No. 10 "Challenges of Nationhood: Identities, citizenship and belonging under Kenya's new Constitution", published by the Society for International Development (SID), Regional Office for East & Southern Africa. The author of this paper is Steve Ouma Akoth.
"Through the concepts of identity, citizenship and belonging, this paper explores the attempts in Kenya's constitution-making process to confer unitary citizenship to all Kenyans in a context of competing pluralities. The paper argues that the political determinist project of constructing unitary citizenship, which was informed by the post- colonial period, was grounded in the desire to create a balance among the various identities that influence how diverse individuals and groups experience and exercise citizenship in Kenya. Whereas the Bill of Rights in Chapter Four of the new Constitution can be viewed as an attempt to generate some sort of perpetual peace, it is the attempt to balance "civic citizenship" against "cultural citizenship" that stands out as providing an avenue for further contestations. The questions posed at the end of the paper invite reflection on politics beyond the sovereignty of the various cultural formations and mis-governance, both of which have ailed Kenya for 20 years at the expense of statecraft."
Note: This is the last paper published within this working papers series, except (No. 6) which has not been published on the Society's website: http://www.sidint.net/content/working-papers
---