Webinar: Supporting negotiations aimed at restructuring power in conflict-affected settings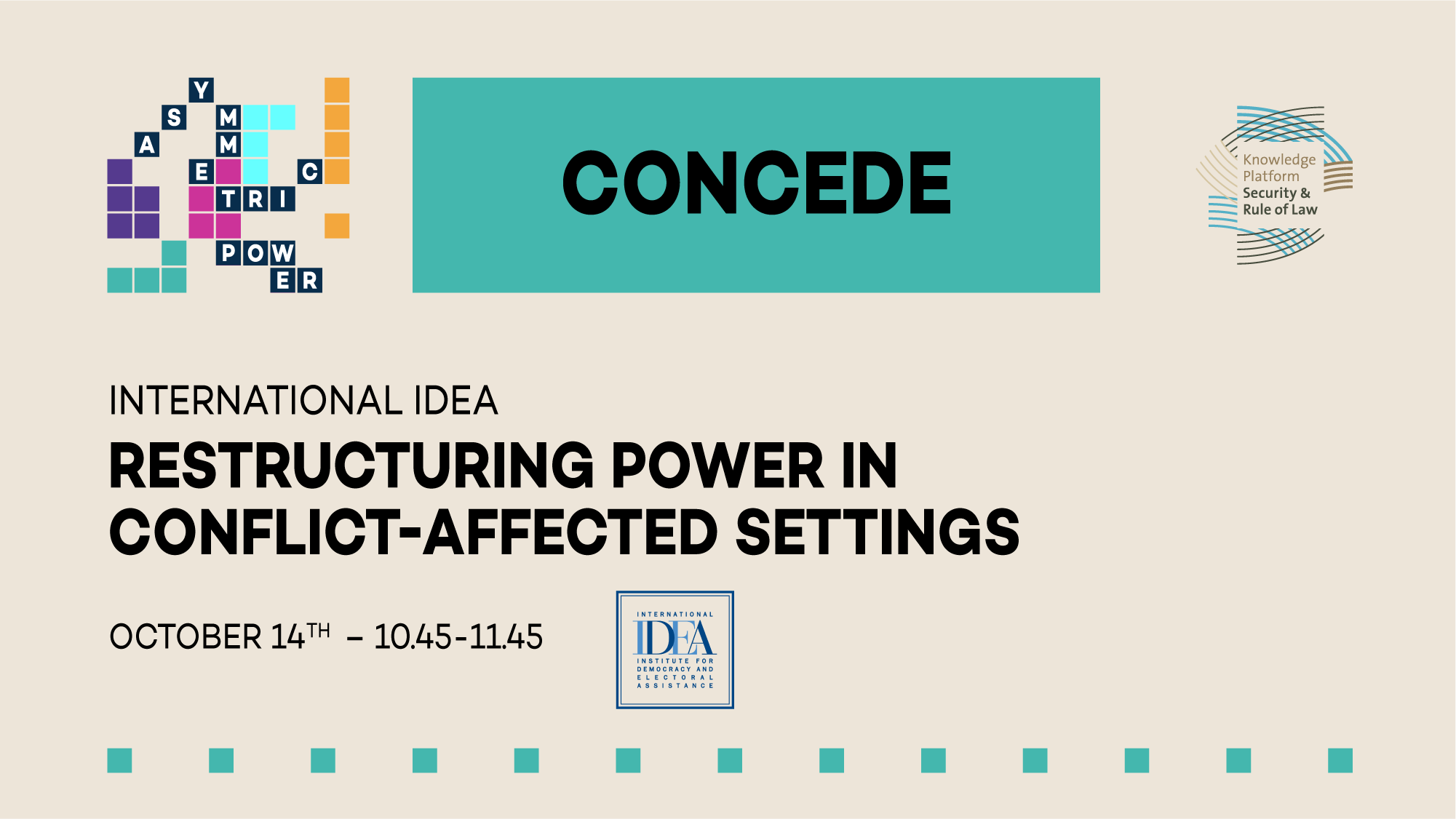 Date: 14 October 2021
Time: 10:45 - 11:45 am (CEST)
[Un service d'interprétation simultanée sera disponible en français // French interpretation will be available]

As part of the Knowledge Platform Security & Rule of Law Annual Conference, International IDEA's Constitution Building Programme invites you to an expert conversation on Supporting negotiations aimed at restructuring power in conflict-affected settings under the theme Courage to Concede.
This session will explore ways to support inter- and intra-party dialogue to reach new legitimate political settlements after conflict, and also ways in which to increase both knowledge and capacity of institutions or individuals that may be at the margin of these processes but have the intention to substantively contribute to the negotiations.

Addressing another aspect of the conference theme, Asymmetric Power, we will further investigate asymmetries between international and domestic actors, and how to achieve optimal results while reducing international dominance when providing support.

Key case studies include Mali, Myanmar, South Sudan, and Yemen.
Please register here: https://buff.ly/3CJpNmS
***
Speakers:
Kimana Zulueta-Fülscher

, Acting Head of the Constitution-Building Programme at International IDEA (Moderator)

Moumouni Soumano

, Research Fellow, Kellogg Institute for International Studies; Assistant Professor of Administrative and Political Sciences, University of Bamako, Mali

Ja Nan Lahtaw

, Executive Director, Nyein Foundation, Myanmar

Adem Abebe

, Programme Officer, Constitution Building Programme, International IDEA

Zaid Al-Ali

, Senior Programme Manager, Constitution-Building in the Africa and West Asia Region, International IDEA