Webinar: Gender and Rules of Procedure in Constitution-Making Bodies
Date: 6 August 2021
Time: 10:00 - 11:30 am (Chile)
[Versión en español abajo]
A historic first, the Chilean Constitutional Convention embeds gender parity by design. The resulting body, comprised of 78 men and 77 women, will write Chile's new constitution. To support women's effective participation and influence within the Convention, Chilean civil society organizations Corporación Humanas, Comunidad Mujer and the Law Faculty of Universidad Adolfo Ibáñez with International IDEA's Constitution-Building Programme, are promoting a series of online workshops focused on women members and constituents. These events will provide comparative information and experience sharing from around the world on gender perspectives in both process design and constitutional content.
The first seminar in this series will focus on gender and the rules of procedure. The rules of procedure are vital in determining how the Convention will be run and organized, the procedures for its operations, the structure and composition of its internal bodies, rules on transparency, ethics, and citizen participation, among other issues. While rules of procedure may initially appear gender neutral, in practice rules can operate in ways that may be challenging or exclusionary. Conversely, the absence of rules that function as inclusionary safeguards can potentially inhibit women's full and active participation and decision-making within the Convention.
The aim of the seminar is to identify and discuss key issues in designing rules of procedure from a gender equality perspective, and to share comparative experiences from around the world. The event will bring together members of the newly constituted Constitutional Convention, civil society, academia, and legal practitioners from Chile with women experts from constituent processes in other countries, including Bolivia, Kenya, South Africa, and Tunisia, to share their experiences.
This webinar is open to the public. There will be English and Spanish translation available.
Please register here: https://bit.ly/NormasDeProcedimiento
***
AGENDA
Welcome and Introductions
International IDEA
Corporación Humanas
Communidad Mujer
Law Faculty, Universidad Adolfo Ibáñez
Framing the issue: Gender Perspectives and considerations in designing rules of procedure for a constitution-making body
This session provides an overview of the issues at stake when designing rules of procedure for a constitution making body from a gender perspective. The aim is to frame the main issues and considerations that the rest of the event will discuss from a comparative perspective.
Comparative Experiences: Successes, challenges, and key considerations
This moderated session features a number of women former members of constitution making bodies from other countries. These experts will provide insights and share their comparative experiences working under different types of rules of procedure. Each expert will discuss a range of structural, procedural or operational issues that benefited or challenged their work -- ranging from issues of parity in leadership roles, to decision-making procedures, to rules on ethics and behaviours.
Moderated question & answer discussion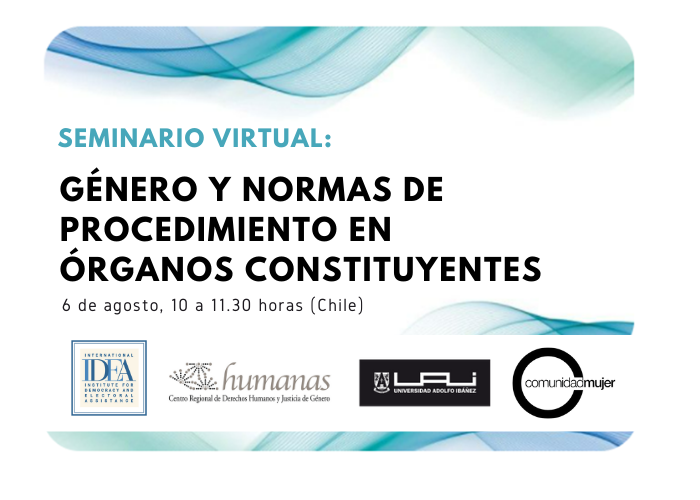 La Convención Constitucional chilena, como hito histórico, contempló un diseño de paridad de género en su integración. Como resultado, una entidad integrada por 78 hombres y 77 mujeres redactarán la nueva constitución chilena. Para apoyar la efectiva participación e influencia de las mujeres dentro de la Convención, las organizaciones de la sociedad civil Corporación Humanas, Comunidad Mujer y la Facultad de Derecho de la Universidad Adolfo Ibáñez en conjunto con el Programa de Construcción Constitucional de IDEA Internacional están promoviendo y organizando una serie de talleres y actividades virtuales enfocadas en constituyentes mujeres. Estos eventos buscan proveer de información comparada y compartir experiencias de otros países en perspectiva de género tanto en el diseño del proceso como en el contenido sustantivo de una nueva constitución.
El primer seminario de este ciclo se enfocará en Género y el Reglamento. Los reglamentos y las reglas de procedimiento son claves para determinar cómo se organizará la Convención, los procedimientos para su funcionamiento, las normas de transparencia, la ética y la participación ciudadana, entre otras cuestiones. Aunque estas reglas puedan parecer neutrales, en la práctica pueden operar en formas que pueden ser desafiantes o excluyentes. A la inversa, la ausencia de normas que funcionen como garantías de inclusión puede inhibir potencialmente la participación plena y activa de las mujeres y la toma de decisiones dentro de la Convención.
El objetivo de este seminario es identificar y debatir cuestiones clave en el diseño de las normas de procedimiento y reglamentos en procesos constituyentes desde una perspectiva de igualdad de género, y compartir experiencias comparativas de todo el mundo. El evento reunirá a miembros de la recién constituida Convención Constituyente chilena, a la sociedad civil, al mundo académico y a profesionales del derecho de Chile con mujeres expertas en procesos constituyentes de otros países (como Bolivia, Kenia, Sudáfrica y Túnez) para compartir sus experiencias.
Este webinario es abierto al público. Habrá disponibilidad de traducción simultánea en inglés y castellano.
Por favor, regístrese aquí: https://bit.ly/NormasDeProcedimiento
***
AGENDA
Bienvenida y presentaciones
IDEA Internacional
Corporación Humanas
Comunidad Mujer
Facultad de Derecho, Universidad Adolfo Ibáñez
Enmarcando la cuestión: Perspectivas y consideraciones de género en el diseño del reglamento de un órgano constituyente
Esta sesión ofrecerá una visión general de las cuestiones que están en juego a la hora de diseñar el reglamento de un órgano constituyente desde una perspectiva de género. El objetivo es enmarcar las principales cuestiones y consideraciones que se debatirán en el resto del evento desde una perspectiva comparativa.
Experiencias comparadas: Éxitos, retos y consideraciones clave
En esta sesión moderada participarán diversas mujeres que han sido integrantes de órganos constitucionales de otros países. Estas expertas aportarán sus puntos de vista y compartirán sus experiencias comparativas al trabajar con diferentes tipos de normas de procedimiento. Cada experta hablará de una serie de cuestiones estructurales, procedimentales u operativas que beneficiaron o dificultaron su trabajo, desde cuestiones de paridad en las funciones de liderazgo hasta procedimientos de toma de decisiones, pasando por normas de ética y comportamiento.
Debate abierto moderado